Hi everyone! Happy Sunday... actually not really because it's school tomorrow! AHHH... Well for today I have a haul for you guys. I did a good amount of shopping this week and I'd like to share with you guys what I got.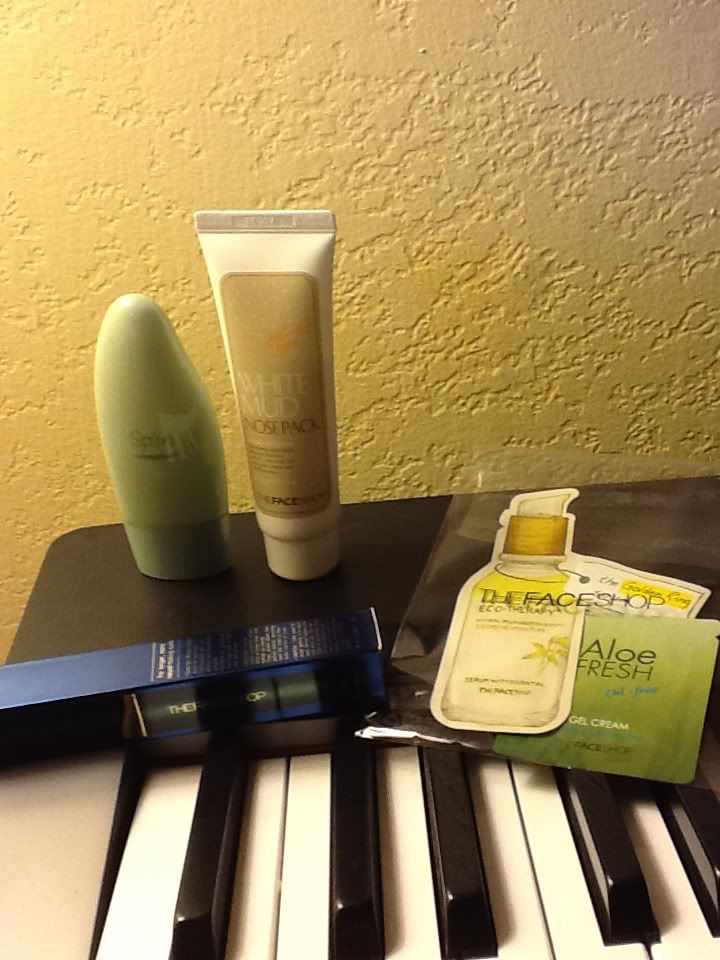 Today, I went to The Face Shop and you guys should already know how much I love that place. Today I got a primer. You know I'm always for making my face looking matte so I got an oil control make up base. Ever since school started, I don't have time to touch up with my powder during school so I wanted something that'll keep my face oil free even with powder and bb cream. I also got a White Mud nose pack. I wanted a cream type instead of a strip. And of course you gotta love The Face Shop freebies!
On to the clothes! I bought these tops from Ross for under 10$ each (what a great deal). My clothes are getting darker since it is getting colder. The striped one is a bit knit but the long sleeve is a thin fabric. The long sleeve is very plain and simple but I like the little zipper-like pocket on the side. I love stripes even though it is said it makes one look fat but as long as it's big stripes that's fine!
I bought this one in Marshalls for a bit more expensive than the last two. I was a bit hesitant to buy this because it's orange and I don't really have much color in my wardrobe but black,gray,brown,white,etc. but I thought why not and bought this. I bought it in M when I usually buy clothes a size bigger than I really am. I am a lot more comfortable in a size large. When I wore this it fit perfectly but a little tight around my arms (my problem area) but that's fine, I can rock this with a cardigan hehe.